Chris Walters is an ordained elder in the United Methodist Church, currently serving as the president of The United Methodist Foundation of the Northern Illinois Conference, Inc.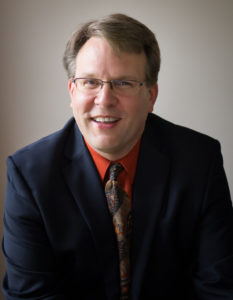 After graduating from Columbia College Chicago with a degree in fiction writing, Chris taught 7th grade English part-time. Eventually he returned to the talents of his adolescence: computers. For 14 years Chris worked in various information technology roles, including IT Director and as a small business owner. Along the way he pursued another deep interest: theology and science. Chris earned the M.A. from Northern Seminary, writing his thesis under the direction of Dr. Douglas Sharp titled "Theology and Technology: Humanity in Process." In 2011 he graduated with the M.Div. from Chicago Theological Seminary.
In July 2006 Chris was a lay delegate to the 19th World Methodist Conference in Seoul, Korea.
With his wife Eun-Hye Choi and son Tim, Chris enjoys vacationing and the outdoors. In his spare time Chris enjoys learning from and supporting public radio. For auditory learners there are many shows and podcasts deserving of your time, especially shows like BackStory, CPM's This American Life, WYNC's Radiolab, BBC Radio 4's In Our Time, and CBC Radio's Ideas). Chris also enjoys listening to SCOTUS oral arguments, reading, blogging, and soaking in music.
For many years I wrote an occasional blog post in response to diverse issues, events, and personal encounters. Some of those past posts I have kept here on Itinerant Church.

As an elder in the UMC I am "itinerant," which means I am sent to "serve in local churches and other ministry settings." The ministry I serve, the United Methodist denomination, my family and friends, and all other parties I am affiliated with do not necessarily endorse the opinions expressed here. As a pastor in the United Methodist Church, I am always open to discussion and ask for grace and mercy in all things, especially in the midst of disagreement. Thank you for your understanding and your interest.